NewsBreak: Trump Adviser Says Tariffs Could Hit 100% if No China Trade Deal Soon
Investing.com | Sep 19, 2019 14:01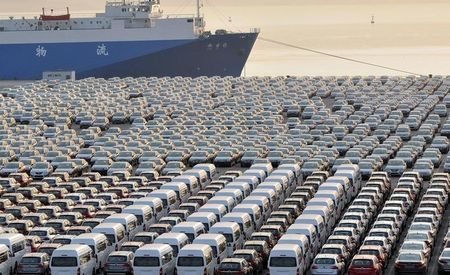 Investing.com – Stocks pulled back from early gains after a China expert who has President Donald Trump's ear said the United States could impose much larger tariffs on Chinese goods unless a trade deal is agreed to soon. Michael Pillsbury, American director of the Center on Chinese Strategy at the Hudson Institute in Washington, made the comments in an interview published Thursday in the South China Morning Post in Hong Kong.
The president could impose tariffs of up to 100% on some Chinese goods, Pillsbury said, adding other measures could include access to Wall Street. Pillsbury is best known for his book "The Hundred Year Marathon," which argues Beijing has a century-long plan to usurp the United States as the world's dominant superpower through various tactics, including technology theft.
He charged that China walked away from the basic framework of a trade deal in May when it sent revisions that were heavily revised.
Pillsbury downplayed suggestions that China and the United States would agree to a mini-deal involving postponement of tariffs set to start in October and December in exchange for Chinese purchases of U.S. farm products.
After the interview was published, the fell 10 points from its highs and was up 0.14% in afternoon trading.
Written By: Investing.com