The positive trade sentiment from Friday carried through to Monday. Phew, there were no late-night tweets to upset the apple cart! Adding to the positive mood is a move from China to make it cheaper for businesses to borrow money. Some stimulus to their economy normally has a positive ripple effect across the globe.
The main focus this week is the meeting of monetary policy leaders at Jackson Hole on Friday. The official name is the Jackson Hole Economic Symposium, which is run by the Federal Reserve Bank of Kansas City. The event attracts business leaders, academics and policymakers. It is followed very closely by the market. Particular focus will be given to what Jay Powell has to say about where he thinks the Fed will be heading.
Yesterday the JSE All Share closed up 0.95%, the S&P 500 closed up 1.21%, and the NASDAQ closed up 1.35%.
Our 10c Worth
One of my favourite web tools for checking the moves on the stock market is the heatmap on FinViz, a US-based financial information site.
US markets have been quite volatile in recent weeks, up or down more than 1% per day, so I find it interesting to see which parts are up and which are down. It shows the different sectors of the S&P 500, and the size of the boxes is determined by the market capitalisation of the individual stocks. The colour reflects the extent of their movement. The more intense the red and green, the more significant the rise or fall.
In the example below, the chart is set to reflect the stock performance in the eight months of the year to date, but the default view is the day move. At a glance you can see that technology, financial and consumer sectors have done well, but energy and healthcare sectors have lagged. The overall market has been strong, after a nasty slump at the end of 2018.
Check it out yourself here, and play around with the settings: FinViz.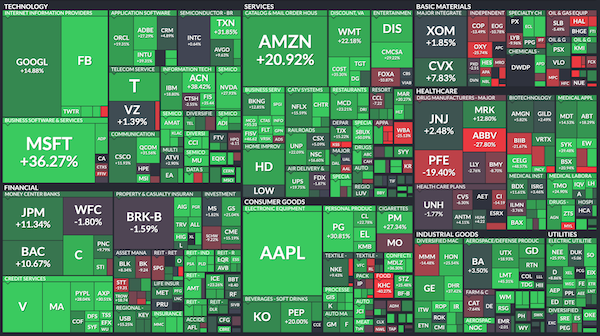 For the record, we built something similar (but more limited) for the local JSE market, which you can look at on our Vestact website once you are logged in to look at your account. It shows the daily moves of the major Alsi 40 stocks, grouped by sector.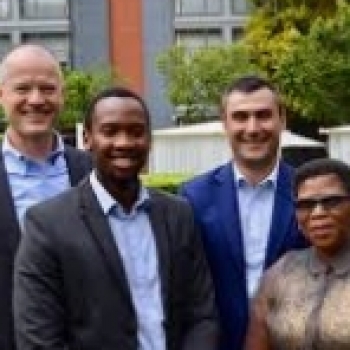 Written By: Vestact